Slide-A-Mark Low Maintenance
Columbia Marking Tools, Chesterfield Twp, MI, offers a version of Slide-A-Mark™ Series Air Impact Markers that does not require lubrication. Externally identical to standard models, the non-lube models provide annual cost savings.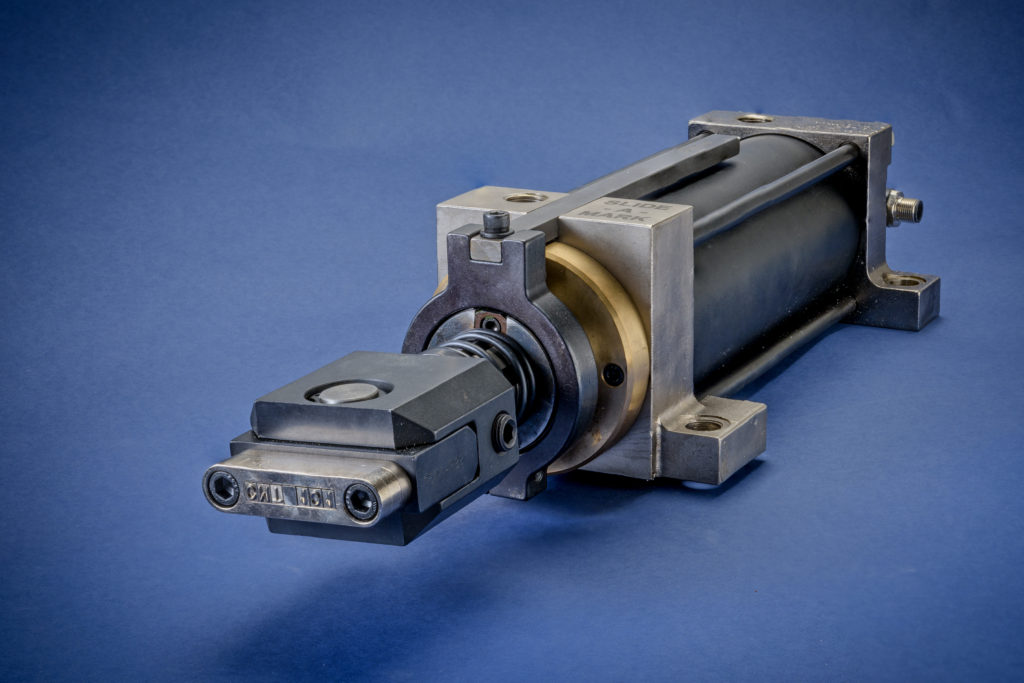 The cost savings are realized by eliminating the cost of an in-line lubricator and its installation, the cost of lubricant, fittings and repair parts, plus the cost of labor to maintain the lubricator.
Columbia's Slide-A-Mark marking tools use a patented, soft-impact marking action to mark various metallic or non-metallic surfaces at low noise levels. The markers are pneumatic units that telescope (or stroke) to the workpiece, pre-loading the alphanumeric stamp against it. Then they propel the internal hammer, which develops marking force, into the stamp, permanently marking the part. These tools are used for marking applications including lot numbering, date coding, traceability, inventory and final inspection as well as non-marking applications such as piercing, staking and seating of products.
Columbia Marking Tools has just released a new Automatic Air Impact Markers Catalog and companion CD that includes all the latest improvements. Each model includes bullet points calling out specific features, an easy-to-use How to Order chart and print dimensions. This catalog also discusses the different types of holders, accessories and special applications including Numbering Heads and Retro-Fit Valve Packs.
Range of Maximum Marking Pressures
There are two models in the Slide-A-Mark line, the 751 and 851. While their physical size and weight are the same, the markers are offered in standard and high power ranges to best suit the application. This marking force runs eight tons for the 751 and 10 tons for the 851. Maximum suggested operating pressure is 80psi.
Spring-powered mechanisms contain more moving parts, which eventually wear out and fail, requiring service. With compressed air of variable pressure, providing both the advance marking force and retraction for the Slide-A-Mark tool, there are fewer mechanical parts to maintain. The soft-impact feature makes this product useful for automatic transfer line marking. Slide-A-Mark units eliminate the need for costly approach slides for reach-in, extra clearance required for the transfer of parts of to clear parts from the fixturing.
Slide-A-Mark Options Offer Versatility
The marker is available in five standard rod styles, with multiple stamp holders and numbering heads. The standard Slide-A-Mark tool has a maximum approach stroke of 2 1/2 inches. However, either model can be ordered with maximum strokes of four, six and eight inches to accommodate applications requiring extra stroke lengths. The standard Slide-A-Mark tool uses side-lug mounting, although special mountings can be made to order. For differing workpiece materials, the marking force is adjustable using an air pressure regulator.
The broad range of power capacities available means a wide variety of non-marking applications for this tool. Because of their repeatability, Slide-A-Mark products have been successfully used in assembling, crimping, piercing, seating and testing operations.
All Slide-A-Mark tools are now equipped with fixed, internal flow or speed controls that do not require adjustment, providing a compact, secure, lower maintenance product.
Columbia Marking Tools is a designer and manufacturer of metal marking tools including stamps, type, dies, impact markers, numbering heads and marking machines.